As Simple as 1-2-3
Technology should make life simple, not make it harder
• Easy to use interface
• No need for long and complex IT training
Other backup and recovery products usually have complicated steps normally requiring an IT expert to perform Bare Metal Restore (BMR). With the DataSaver, by performing just 3 simple steps, you'll be back in business right away!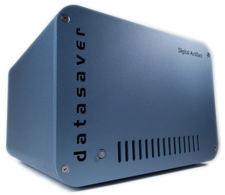 Enter your DataSaver IP address
Enter your client name and password
Choose your recovery point
And you'll be back in business in as little as 45 minutes!
* Recovery time based on 40GB hard disk drives 50% used
Simple Setup & User Interface
Its simple setup and user interface makes the Datasaver very simple to use. It has no complex menus to navigate, allowing even a non-IT savvy person to easily utilize the DataSaver for data protection.
Our centralised network based management, Intelligent Disk Space Management (IDSM) and Data Privacy features all contribute towards making the DataSaver a simple product for a complex technology and process.